Walhowe, a 6'6" University of Minnesota-Morris grad, recalls a time when someone asked him if it was okay to donate five tomatoes. "I tell people that there's no donation too small," he says.
In addition to using multiple food collection techniques, The Food Group is also unique in its approach to nutrition. "We're the only food bank, that I know of, with a staff nutritionist," says Walhowe. That nutritionist is involved in many of the organization's efforts, including The Food Group's Fare For All initiative — a program which sells discounted groceries at more than 30 sites across the metro. The meat and produce packs sold at these locations are deliberately designed to be nutritionally-balanced. The Food Group also supplies its food shelf partners with repackaged bulk and fresh spices, helping consumers add flavor to their foods without relying on oils, salts, sugars and fats.
Going forward, The Food Group is committed to exploring news ways to provide the hungry with nutritional food. Walhowe grows excited when he discusses two initiatives in particular — partnering with a local food processor to can fresh produce to feed folks during non-growing seasons and expanding gleaning efforts to additional farms.
The Food Group's staff and volunteers are similarly enthused about the nonprofit's current and future initiatives.
From the end of a row of ripening peppers, Mickey Foley looks up from under his wide-brimmed sun hat and smiles. "No one should go hungry and everyone should have access to healthy food that's free of chemicals," says the 37-year-old freelance writer who volunteers in the giving garden.
Out in the plot, Haley Diem is picking green beans, her cap pulled down against the sun's glare. She has a bachelor's in Environmental Studies from Augsburg College and has championed sustainable agriculture her whole career. Right now, she's an independent contractor for The Food Group's Fresh Produce Programs. "It's incredibly satisfying to harvest fresh food directly from the earth and transport it the same day to those who need it," Diem says. "The work we do is important for local families. And on a larger scale, we are helping to alleviate national health and food security concerns."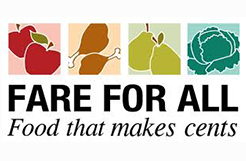 Fare For All sites are community-supported and are open to everyone. Cash, credit/debit cards and EBT are accepted. Find a location.