Health impacts of a well-designed Bottineau LRT include:
Improved activity levels
Nationally, people who use transit get 24 minutes of exercise per weekday just by walking to and from transit. Why this matters: about half of adults and three-quarters of children living in Hennepin County do not get the recommended levels of exercise.
Improved job access
Why this matters: Jobs are spread throughout the region, making it difficult and expensive for workers without a vehicle to reach their jobsite. In some areas of the Bottineau Corridor, nearly 60 percent of workers don't own a vehicle.
Reduced transportation costs
Why this matters: Households that have lower transportation costs have more left over in their budgets for other things that promote health like nutritious food. Lower transportation costs can also reduce stress and prevent homelessness.
Improved traffic safety
Public transit is one of the safest forms of transportation. Why this matters: In 2011, 5,089 people were injured in motor vehicle crashes in the cities along the proposed LRT route.
Education access
The Bottineau Transitway will connect riders to North Hennepin Community College and other educational and vocational training institutions. Why this matters: people with an education have a better chance of securing a well-paying job and can more easily access health information and resources.
Improved access to healthy food
According to the USDA's Food Access Research Atlas, areas along the proposed new LRT route qualify as "Low Income Access Areas," places where many households without vehicles are also more than a half- or one-mile from a supermarket. Why this matters: Less than one-third of residents living in cities along the new route eat the recommended amounts of fruits and vegetables.
Benefits to low-income communities and communities of color
Numerous studies have shown that transportation-related health impacts can be particularly beneficial to low-income communities and communities of color -- which tend to have higher rates of preventable health conditions like obesity and Type II diabetes. Well-designed transit systems and station areas can help these communities achieve health equity.
The Harrison neighborhood, where one of the Bottineau Transitway's 11 stations is planned to be constructed, fits the bill of a low-income community and a community of color. As of 2010, seventy-one percent of Harrison residents were people of color, compared to 40 percent in the Minneapolis population. At the same time, 37 percent of Harrison residents lived in poverty, compared to 17 percent of people in Minneapolis. Additionally, the neighborhood history is one of undesirable past development — like the former Warden Oil Company and Chemical Marketing Corporation. This history makes development discussions all the more important.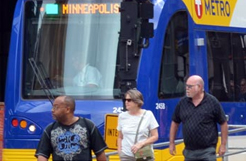 For an overview of transit planning efforts, see Hennepin County Bottineau LRT community works page.