A glance around the market confirms that it's awash in these types of features. Today, for example, Ben E. King's "Stand by Me" streams from a boombox, and customers hula-hoop and double-dutch jump rope to the tune. At a picnic table, a SNAP Ed provider teaches a group of Better Futures clients — mostly African American men with a history of incarceration — how to prepare healthy meals. And when a police car pulls up, two officers emerge and mingle with the crowd, high-fiving customers and purchasing bags of produce. "You can't make this stuff up," Nolen says, of the officers. It's a relationship she's worked hard to foster.

And herein lies the revelation. Improved food access is just one of the ways a farmers market can reduce health disparities. Community-building is another. With every interaction at the market, staff and vendors try to "model a healthy community," says Nolen. As she explains, that means "how we greet" and "how we treat children" to "how we honor our elders."

Nolen's vendors currently set up shop in a strip mall parking lot at the intersection of West Broadway Avenue and Emerson Avenue North on Friday's. Hours are 3 to 7 p.m. June through October. Nolen's next goal is to find her market a permanent, year-round, indoor space. She's hopeful.

"This is the place to be on Friday afternoons," Nolen says, gesturing to the hula-hoopers, double-dutch jump ropers, police officers, vendors, men from Better Futures and others.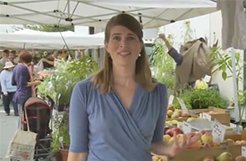 See the top 10 reasons for visit a farmers market at http://www.nutrition.gov/farmers-markets.