Community paramedicine is an emerging healthcare profession, one that was enacted into law by the Minnesota state legislature in 2011 to meet the needs of underserved communities and counter rising healthcare costs. In 2012 further legislature allowed community paramedic services to be Medicaid reimbursable. A number of health care systems have since expanded or initiated a community paramedic program, including North Memorial Medical Center, Allina Health, HealthEast, Tri-County Health Care, and Essentia Health. HCMC's program launched in 2013.
In addition to conducting home visits, Hennepin County community paramedics are also a presence at Minneapolis Salvation Army Harbor Light Shelter, the state's largest adult outreach facility.
Between 2010 and 2014, 911 calls to Harbor Light increased 22 percent. By embedding community paramedics there four days per week, Hennepin County hopes for a 10 percent reduction in emergency medical services and a 10 percent reduction in total cost of care. The initiative launched in March 2015 and so far it's exceeded these goals; comparing third quarter 2015 to third quarter 2014, emergency medical 911 calls to the shelter have decreased 31 percent.
The community paramedics at the shelter credit their success to the relationships they've built. Instead of calling 911, "Call our cell phone or come find us," they remind residents, security guards, and homeless advocates.
A typical case in point: Soon after the program launched, a community paramedic was on-site when an asthmatic shelter resident, who had recently been discharged from the hospital, began wheezing. "Normally someone would have called 911 about him," the paramedic remembers. "Instead they called me." After showing the resident how to properly use his nebulizer and inhaler, his wheezing subsided. Crisis averted. Calm achieved. Costs contained.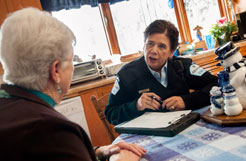 This US News and World Report article describes how community paramedics are stepping up to cut hospital readmissions and medical costs.