Sam Carolus agrees. She's the program and administrative coordinator for Abbey's Hope, a Minnesota-based foundation focused on safer pools and kids. Abbey's Hope is also a member of the Minnesota Water Safety Coalition, an advocacy group providing public education for water safety.

Carolus says, "People think drownings are noisy, that they'll hear screams and shouts or see arms and legs thrashing. That's not the case. They're silent. Again and again we hear, 'I turned my back for a second.' That's all it takes. You can't depend on your ears to know if someone is in trouble."

And when Richardson considers standard emergency response equipment — from shepard's crooks to throw rings — he makes an important point. "The telephone is safety equipment, too. At a pool, look around and see if there's a phone that auto-dials 911. It could be even faster than finding a cell phone, and anyone can pick it and make the call."

Hennepin County Public Health maintains oversight on 500 pools and 31 beaches, regularly inspecting equipment and water quality and working with owners and operators to maintain safety standards. The county also supports the ongoing efforts of the Minnesota Water Safety Coalition in all three phases of its public outreach: pool/water safety, boating safety and ice safety.

"Minnesota has very strong laws regarding water safety, among the best in the nation," Carolus concludes. "But staying safe ultimately depends on people watching out for each other and knowing how to use the safety equipment at the pool or beach. Have fun. But recognize and respect the dangers."
Swimming lessons – for children and adults – are offered by multiple providers across Hennepin County. Many are taught at indoor swimming pools, so are available year-round. Here's a fairly comprehensive roster of providers of swimming and water safety training, with links to further information.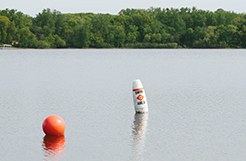 Swimming lessons help children and adults alike safely enjoy water recreation. Find lessons.